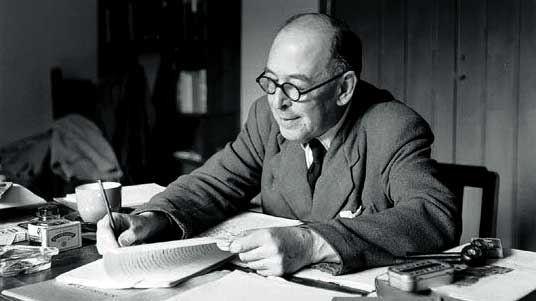 (C.S. Lewis) (Photo credit http://www.movieguide.org)
It would appear, in regards to writing that that is just how things seem to be.  Now just wait before you refute that first sentence.  Let me explain.  Old ideas and genres that "old" authors used to write in obviously are present today; many people still write about fantasy (like C.S. Lewis or J.R.R. Tolkien once did).  Many people still write mysteries (like Arthur Conan Doyle once did).  Many people still write science-fiction (like H.G. Wells).  Many people write about modern times (like Charles Dickens and John Steinbeck once did).
Yet, there tends to be a great barrier that distinguishes us modern writers from the writers mentioned above, and many others around their time, from fifty years back to two-hundred.  What could this be?  Here is the answer:
The writings authors today lack the beauty and disciplinary values of the writings of past authors.  Today, authors tend to write just like they were writing a movie; there is little room for character depth; the depth of the created world (should the story be in one); lack of beauty in the way the words of the text are written; and lack of respect for writing as an art.  Writing is an art.  To make an analogy, think of what normally comes to mind when you think of art: you think of a painting.  And now to complete the analogy: if the authors of old had their written works described by a painting, the painting would be of something beautiful, with every detail thought out, and every part of its design possessing meaning, whether apparent or hidden.  If the authors of today had their written works described with a painting…well I hope you like stick figures.  Stick figures are simple; they possess no depth, no room for detail, and anyone can make stick figures.  Note also that while a great painting that depicts the skill and artistic qualities of the writers of old will live on, and be counted as a "classic", something that can be looked at again and again for generations, the stick figures of today's writers will be amusing for only a short time, and then forgotten.
I'm not saying that there aren't impressive writers out there today.  There are just too few.  How have authors like Tolkien, C.S. Lewis, and Charles Dickens had works that survived so long?  It was because they put true, meaningful effort into their writing.  They made sure every sentence counted; that every word made sense.  They made sure there were no plot-holes.  They made sure they developed their characters.  They knew how to make words flow wonderfully in order to incite the  emotional reactions that they wanted their readers to have.  And they took their time with their books; they allowed themselves enough time to produce excellent pieces of literature and even allowed them to be edited for years.  Today, most publishers like it when authors crank out their books in a matter of months, or at least as quick as they can.  There's nothing wrong with that; if you've got time, you've got time, and if your book is short…well, why not?  But time is not equivalent to effort, and doesn't necessarily contribute to the beauty and artistic value that every piece of writing should have.  Giving effort, and endeavoring to have beauty and artistic value in one's writing, will indeed take time, however.
So what do we do?  We slow down.  We take our time.  We strive to make our writing have beauty and meaning.  We endeavor to create stories that will last for centuries.  I know I am.  Thanks for reading.  If you have any thoughts, you know that I'd love to hear them.
Aul